Product Description & Delivery Information.
The Stompa Casa 12 high sleeper bed frame is made from Scandinavian pine and comes in a modern white finish. The sturdy steps, gable ends, desk top and TV stand come in a choice of blue, lilac or white to best suit your child's colour preferences and bedroom decor.

For storage the two door wardrobe has a full width hanging rail with a shelf below. To complete this multi functional high sleeper bed a fixed desk is included with a TV or monitor stand giving a great place to study or play.

Optional clip on shelves are available in a choice of 3 different colours.




White Pine & Option Colours: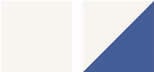 Delivery Information:
Free Local Fast Delivery 1 to 5 Days.
Free None Local UK Mainland Delivery 2 to 4 Weeks.

Additional Information:
Product Type: High Sleeper Bed
Colour: White Pine
Dimensions: 98cm to 127cm width x 184cm height x 209cm length

Mattress Dimensions: European Single 90cm wide x 200cm deep (Not Included)

This product is delivered flat-packed with full assembly instructions.



Product Assembly Instructions
Suggested Matching Items
£489.00

Save: 31%

Now : £339.00

£269.00

Save: 26%

Now : £199.00

£1,369.00

Save: 30%

Now : £959.00

£39.00

Save: 10%

Now : £34.99

£1,089.00

Save: 30%

Now : £759.00

£329.00

Save: 30%

Now : £230.00

£1,159.00

Save: 30%

Now : £809.00

£1,299.00

Save: 30%

Now : £909.00

£1,449.00

Save: 30%

Now : £1,009.00

£489.00

Save: 31%

Now : £339.00